Wolfgang Uber Compound How-To & Review
A few weeks ago I was brought e a bottle of compound to test out for cut, finishing ability and overall buffing experience. I had a friend bring by his 1995 BMW 525I that was mechanically in great shape but the paint was hammered.
I had seen this car one time before today and at that time it was around 6:00pm and the car was parked in the shade.
Here it is when it arrived....
Swirl City
Here's the same car as I move around to the front of the hood to capture the sun reflecting off the hood.
In the garage
At this point I've asked Bryan to help me with this project to kick it out before 5:00pm and this shot was taken after wiping the car down with Detailer's Waterless Auto Wash.
Decontaminating the Paint
After we wiped the car clean we did the baggie test and sure enough there was some type of crud on the paint so next we clayed all the paint and the glass.
Mechanical Decontamination
Here's Brian claying the paint up front while I started at the roof and worked downward.
Above Surface Bonded Contaminants
This picture was taken after claying just the top of the trunk lid. There's not a ton of junk on the paint but there's definitely something.
Testing Wolfgang Uber Compound
I taped off half the hood and for this test I'm using only a Lake Country 6.5" White Hybrid Polishing Pad with a Flex 3401 Forced Rotation Dual Action Polisher.
Driver's Side Before
Passenger Side Before
Three small drops on a pad already primed with Wolfgang Uber Compound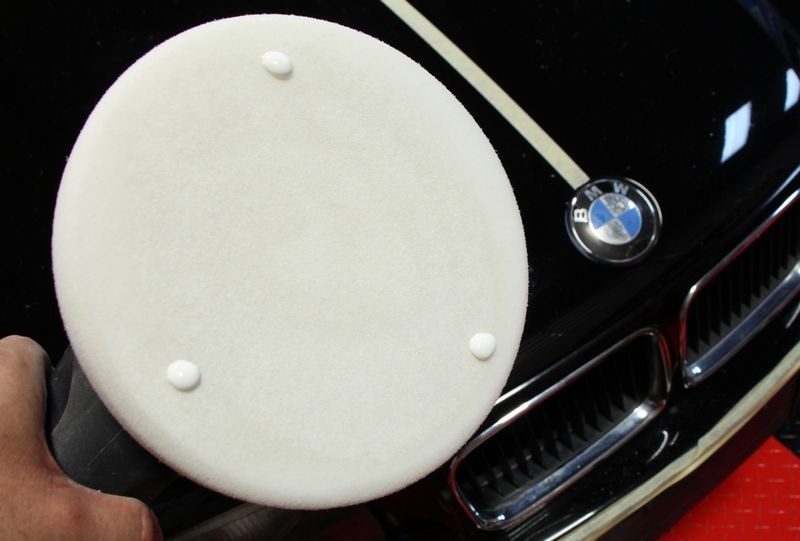 Here's the results after buffing the section twice. Once to cut it with firm pressure on the 5.0 Speed Setting. A second time after cleaning the pad, applying fresh product and rebuffing on the 4.0 Setting.
Hammered Paint
There are pits or pin holes in the paint and some cracks in the paint too, that just comes with age. These types of defects can be improved, but not completely removed.
Considering what I had to start with, the new Wolfgang Uber Compound did a great job of removing the swirls and finishing down to what some people would consider LSP Ready.
We followed the Uber Compound with Wolfgang Finishing Glaze and black foam pads and then machine waxed it as a thank you to the owner for letting us use their car.
A few tips about buffing out BMW's Anytime you have a sun roof, be sure to tape off the sun roof gasket, whether it's rubber or the fuzzy material. Otherwise it's real easy to stain it with compound and polish residue. For this we used the 3M Blue Vinyl Tape.
This BMW had a lot of exterior plastic trim. To protect it from spatter we taped everything off using painter's tape. Later, Bran restores all the plastic trim to give it a refreshed look to go with the restored paint.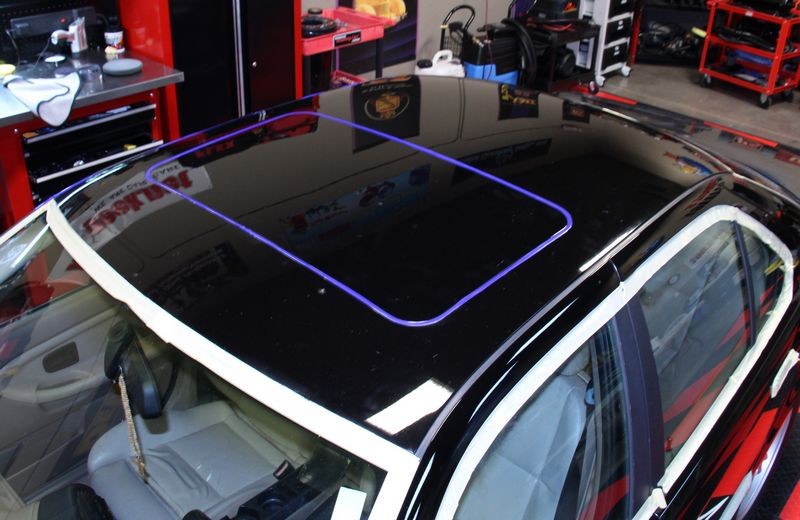 Here's Brian working the lower panels...
Griot's Mini Polisher for Thin Panels
For the thin panels he used the green Rupes 4" pads that seem to work pretty well on the Griot's Garage 3" Mini Polisher.
Machine Waxing
After all the compounding and polishing, we machine applied Blackfire BlackICE using the Griot's 3" Mini Polisher and the Rupes white 4" foam pads.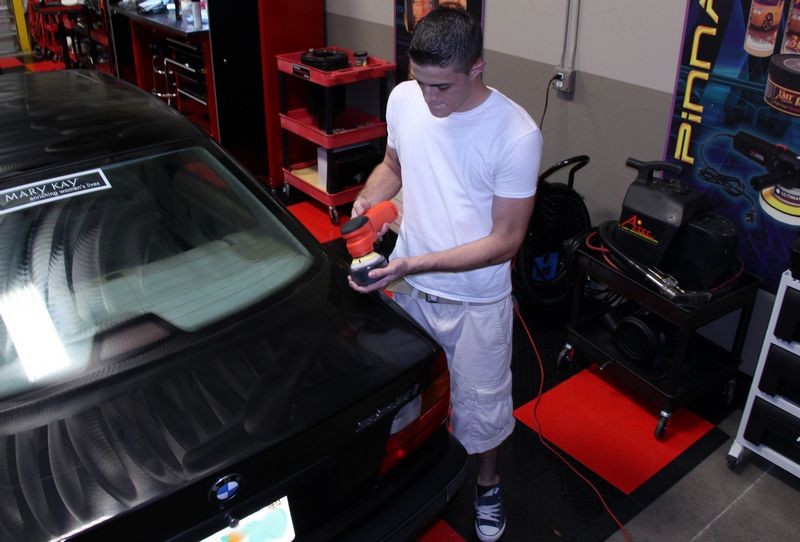 Beauty shots...
We did this in three steps and the difference is night and day...
Hard to believe this is a 1995 BMW!
My comments...
I've used a lot of compounds in my life and most never worked as well as the abrasive technology used in the Wolfgang Uber Compound. In the past, anytime you used a compound you expected to see a scoured looking finish. Of course the original defects would be removed but now you would have to remove the swirls and scratches left behind by the compound.
Not so with the Wolfgang Uber Compound. This compound cuts fast and finishes down like a fine cut polish. It has a long buffing cycle and at least on this BMW's paint, the wipe-off was easy.
I'd say from the way the product buffed and the residue that built-up on the pad this is a concentrated compound, by this I mean a little product cuts a long way. Until you get a feel for it I'd recommend underusing it instead of overusing it.
I normally use the Flex 3401 on the 6.0 setting for doing correction work, I found this compound worked well at the 4-5 speed range with only medium to firm pressure. I have not had a chance to use this new compound with wool pads on rotary buffers yet but I will in the weeks to come and everyone that is attending the upcoming Detailing Boot Camp Class, (sold out), will have a chance to test out this new compound on one of our project cars.
This is a great addition to the Wolfgang line of concours quality products. The Wolfgang Total Swirl Remover, (a medium cut polish) and the Wolfgang Finishing Glaze, (a fine cut polish) are great polishes that in the past were more than capable of tackling most car detailing projects for most people. With the addition of a true aggressive compound, the Wolfgang Concours Series is now a very well rounded-out line that will enable you to pick and choose just the right level of cut for your detailing project.
Because all three of these products are Body Shop Safe, they are completely safe for use in body shops (fresh paint environments) as well as safe for use on fresh paint.
Look for some future projects here at Autogeek's Show Car Garage where we'll be putting the new Wolfgang Trio to the test!