TAN FLANNEL car covers
An indoor cover with a soft natural finish to protect delicate paint.
Favored by traditional enthusiast, tan flannel always provides a soft touch to pamper fine paint finishes. Designed primarily for indoor storage use, this woven cover is constructed from a durable polycotton blend. This fabric is a heavier version of Covercraft's Polycotton cover.
---
FEATURES
Flannel Underside - Soft, napped finish.
Long Wearing - Over 50% heavier than our gray polycotton fabric.
Breathable - Allows moisture to evaporate and will not trap heat under cover.
Water Resistant - Treated for moisture repellency.
Rot, Mildew Resistant - Treated to resist rot and mildew.
Double stitched overlapped seams
Neoprene elastic hems – the elastic in the front and rear hems helps hold the cover in place
Reinforced, non-scratch grommets – use a tie-down rope (supplied) or a vinyl coated cable and lock (optional)
---
RECOMMENDED USE
The flannel cover is intended for indoor use or occasional outdoor use. The napped underside pampers delicate paint finishes and the strong, polycotton fibers provide good dust protection. This is a heavier fabric so it may be best suited for long-term storage. If you want a lighter indoor cover, check out the Polycotton cover.
FIT
This fabric is available in custom fit. Click on the order button below and follow the instructions to select your cover. Exact pricing will be displayed once you have selected your cover.
Antenna openings – All Covercraft covers are made to fit vehicles with retractable antennas. If your vehicle does not have a retractable antenna, you will need to make a small opening in the fabric. Please indicate in the comment box of your order that you need an antenna grommet and we will be happy to send you one at no extra charge. Mirror pockets – If your vehicle was manufactured before 1965, the cover you receive may not have mirror pockets, even if it is a custom cover. If the pattern for your particular vehicle does not include built-in mirror pockets, we can send you mirror pockets for free, but they will not be sewn into the cover. This only applies to pre-1965 models. If your vehicle was made after 1965, your custom car cover will have mirror pockets already sewn into the cover.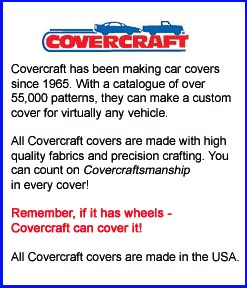 COLOR
The Flannel cover is available in tan.
WARRANTY
90 days
SHIPPING
Allow 3-4 weeks for delivery.
OPTIONAL ACCESSORIES
Car Cover Storage Bag – Fold up you cover and keep it neatly tucked away in the trunk or garage. This bag will keep it clean and dry.
Car Cover Lock – Thread the vinyl-coated cable through the cover's grommets and attach the lock to secure the cover to your vehicle and deter thieves.
PRICE
Custom covers start at $160.00
---
Covercraft items ship from the manufacturer via ground service with an estimated ship time of 3-4 weeks. Expedited and international shipping are not available. Addition discounts do not apply to Covercraft products.