BLOCK-IT 200 car covers
Our best mid-priced car cover!
The BLOCK-IT 200 cover is very light weight, flexible and affordable. This cover is breathable, sunproof and water resistant. Covercraft's patented Multibond® Fabric uses 3-layer non-woven polypropylene construction for moisture and dust resistance. The water resistancy of this cover is higher than the poly-cotton but less than the BLOCK-IT 400. The BLOCK-IT 200 is the mid-priced leader in quality and performance. Great for everyday use or long term storage.
---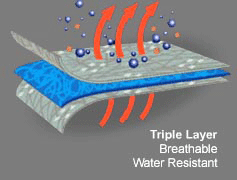 FEATURES
Lightweight - Easy to use and less bulky for compact storage
Soft & Non-Abrasive - Will not scratch clean paint or clear-coat.
Breathable - Allows moisture and condensation to evaporate.
Moisture, Mold & UV Resistant - Polypropylene fibers are naturally moisture resistant and treated for extra UV protection.
Good Dust Protection - When used indoors, keeps vehicle cleaner than most woven fabrics.
Double stitched overlapped seams
Neoprene elastic hems – the elastic in the front and rear hems helps hold the cover in place
Reinforced, non-scratch grommets – use a tie-down rope (supplied) or a vinyl coated cable and lock (optional)
---
RECOMMENDED USE
This cover is good for outdoor use. If you are storing your vehicle outdoors for extended periods, WeatherShield HD is the best choice. But if you live in a temperate climate or your vehicle is sometimes stored indoors, the BLOCK-IT 200 will give you good protection at a moderate price. It can also be used as an indoor cover.
FIT
This fabric is available in custom and ready fit.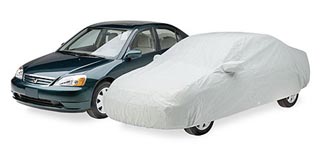 Click on the order button below and follow the instructions to select your cover. Exact pricing will be displayed once you have selected your cover.
Antenna openings
– All Covercraft covers are made to fit vehicles with retractable antennas.
If your vehicle does not have a retractable antenna, you will need to make a small opening in the fabric.
Please indicate in the comment box of your order that you need an antenna grommet and we will be happy to send you one at no extra charge.
Mirror pockets
– If your vehicle was manufactured before 1965, the cover you receive may not have mirror pockets, even if it is a custom cover. If the pattern for your particular vehicle does not include built-in mirror pockets, we can send you mirror pockets for free, but they will not be sewn into the cover. This only applies to pre-1965 models. If your vehicle was made after 1965, your custom car cover will have mirror pockets already sewn into the cover.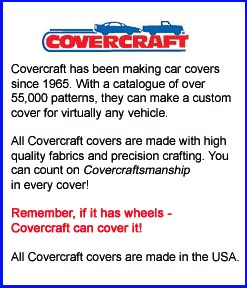 SHIPPING
Due to manufacturer delays, please allow 3-4 weeks for delivery.
COLOR
The BLOCK-IT 200 is available in gray.
WARRANTY
2 year limited warranty
OPTIONAL ACCESSORIES
Car Cover Storage Bag – Fold up you cover and keep it neatly tucked away in the trunk or garage. This bag will keep it clean and dry.
Car Cover Lock
– Thread the vinyl-coated cable through the cover's grommets and attach the lock to secure the cover to your vehicle and deter thieves.
PRICE
Custom covers start at

$95.00

Ready Fit covers start at

$59.99