Cobra Microfiber Product Kits
Kits are a great way to save money while getting acquainted with a variety of products. Take advantage of kit savings on Cobra Microfiber products! Cobra Microfiber is not your run-of-the-mill towel. Our particular brand of microfiber features over 220,000 strands of silky soft, manmade fibers per square inch. Made of a blend of polyester and polyamide, this fabric will outlast your terry cloth, your chamois, and your chenille. It's tough!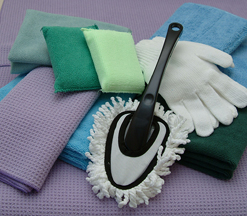 Microfiber is also incredibly versatile. Because its manmade, the fibers can be tweaked to perform any task better than a standard towel or cloth. This chameleon quality lends itself to towels, dusters, and mitts of exceptional quality and effectiveness. Since there are such a wide variety of microfiber products offered by Cobra, we've grouped them into money-saving kits. Take several products for a test drive without paying full price for any of them!