WEATHERSHIELD HD Car Covers
Developed for intense sun environments and long term storage.
WeatherShield® now has a "big brother" - WeatherShield HD!
WeatherShield HD provides optimum protection. Everything about this cover says strength and unmatched durability. WeatherShield HD not only provides UV opacity, it repels water, blocks dust, tree sap and bird droppings, and is still breathable to allow moisture and heat to escape from under the cover.
Who should use WeatherShield HD? People who live in intense sun climates and along the coast will benefit most from this new fabric. RV owners looking for the best cover for long-term storage will find exactly what they need in a WeatherTech HD cover.
For maximum performance in the harshest environments you can't beat WeatherShield HD.

The base material for WeatherShield HD is woven by Glen Raven Mills (makers of Sunbrella®), using solution dyed UV resistant polyester fibers (see insert below to learn why solution dyed fabrics are better - courtesy of Glen Raven Mills). Not only is the fabric solution dyed, the 300 denier construction is 40% heavier than regular WeatherShield and the heavier denier thread provides double the tear and tensile strength.
This superior base fabric is then finished with the patented
EPIC by Nextec® encapsulation process...the same high performance finish used on our popular WeatherShield fabric. Using up to 40 computer controlled proprietary processes, Nextec forces specially formulated polymers inside the fabric to bond to each individual thread and fill the valleys between the woven fibers (see close-up at left). These special polymers have amazing elasticity to block moisture and dirt, while still maintaining the breathability of the fabric. You can see why Nextec's slogan is "Outsmart the Outdoors".
---
FEATURES
Maximum Weatherproof- Fabric sheds water as soon as it hits the cover.
Superior Dry Time- Because the fabric sheds moisture, just shake the cover and it dries in minutes.
Breathable- Allows any heat or condesation under the cover to easily escape.
Maximum UV Resistant- Special additives prevent UV degradation and protect the vehicle's finish and interior.
Dust Proof- Patented fiber encapsulation process prevents dust from filtering through fabric.
Double stitched overlapped seams
Neoprene elastic hems – the elastic in the front and rear hems helps hold the cover in place
Reinforced, non-scratch grommets – use a tie-down rope (supplied) or a vinyl coated cable and lock (optional)
---
RECOMMENDED USE
If you are storing your vehicle outdoors for extended periods, WeatherShield HD is the best choice. It is superior to all other fabrics for intense sun climates (like Florida) and coastal areas. Use the WeatherShield HD in dry, dusty climates or rainy ones. It's the best all-around outdoor protection offered by Covercraft. The WeatherShield HD is a significantly heavier fabric than the regular WeatherShield. If you are covering an everyday driver, you may want to consider a lighter cover, like the WeatherShield or a BLOCK-IT cover. These covers are easier to handle on a day-to-day basis and they offer considerable protection against the elements. However, for long-term outdoor storage, WeatherShield HD can't be beat.
FIT
This fabric is available in custom fit. Click on the order button below and follow the instructions to select your cover. Exact pricing will be displayed once you have selected your cover.
Antenna openings – All Covercraft covers are made to fit vehicles with retractable antennas. If your vehicle does not have a retractable antenna, you will need to make a small opening in the fabric. Please indicate in the comment box of your order that you need an antenna grommet and we will be happy to send you one at no extra charge. Mirror pockets – If your vehicle was manufactured before 1965, the cover you receive may not have mirror pockets, even if it is a custom cover. If the pattern for your particular vehicle does not include built-in mirror pockets, we can send you mirror pockets for free, but they will not be sewn into the cover. This only applies to pre-1965 models.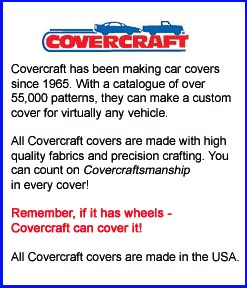 If your vehicle was made after 1965, your custom car cover will have mirror pockets already sewn into the cover.
COLOR
The WeatherShield HD is available in gray.
WARRANTY
6 year limited warranty
SHIPPING
Allow 3-4 weeks for delivery.
OPTIONAL ACCESSORIES
Car Cover Storage Bag – Fold up you cover and keep it neatly tucked away in the trunk or garage. This bag will keep it clean and dry.
Car Cover Lock – Thread the vinyl-coated cable through the cover's grommets and attach the lock to secure the cover to your vehicle and deter thieves.
PRICE
Custom covers start at $275.00
---
Covercraft items ship from the manufacturer via ground service with an estimated ship time of 3-4 weeks. Expedited and international shipping are not available. Addition discounts do not apply to Covercraft products.