Ultra'tect Car Covers
High performance outdoor protection at a moderate price!
Ultra'tect car covers were developed from the need for a car cover that would retain its color and strength in extended outdoor exposure, while providing a high degree of water resistance and UV protection at a moderate price. Ultra'tect covers accomplish all this and have an attractive custom fit. The Ultra'tect car covers are made of a solution-dyed fabric called WeatherMax® SL, made in the USA by Safety Components Fabric Technologies. This durable fabric is made to withstand the outdoors without fading or losing its shape. For people looking for an affordable, manageable outdoor car cover, the Ultra'tect is a perfect choice.
---
FEATURES
Fade Resistant - The color is added to the polymer be it is extruded into yarn form for maximum fade resistance. (each fiber is a solid color, NOT surfaced dyed.)
Superior Shape Retention - Fabrics are resistant to sagging because the fibers are designed to have minimal stretch.
Strong - Using double 150 denier yarns in both the machine and cross direction (2/150's MD & CD) helps provide higher strength and better water resistance than using single 300 denier yarns.
Luxurious "Hand" - The weave gives Ultra'tect covers more durability and dimensional stability with a luxurious hand or "feel".
Water Resistant - A highly water-repellent HydroMax finish on BOTH sides of the fabric helps protect against rain, while maintaining the fabric's breathability.
Excellent UV Protection - Ideal for applications that are subject to prolonged sun exposure and extreme elements.
Easy to Use - Ultra'tect's fabric weight is "just right" for everyday use...heavy enough to stay in place and light enough to easily handle on a day-to-day basis.
Easy to Clean - Most mid-size vehicle covers can be cleaned in a home washer and dryer.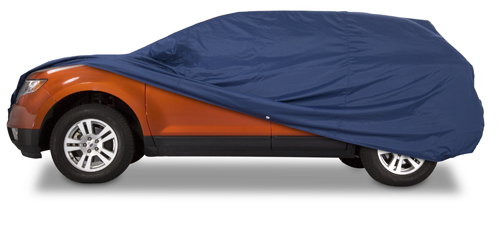 ---
RECOMMENDED USE
The Ultra'tect car covers provide great outdoor protection and they're easy to handle every day. If you park outdoors every day or on the street, the Ultra'tect will keep your vehicle clean and dry while providing excellent UV protection. The superior shape retention and fade resistance will keep your Ultra'tect cover looking good over the long run.
FIT
This fabric is available in custom fit only. Click on the order button below and follow the instructions to select your cover. Exact pricing will be displayed once you have selected your cover.
Antenna Openings - All Covercraft covers are made to fit vehicles with retractable antennas. If your vehicle does not have a retractable antenna, you will need to make a small opening in the fabric. Please indicate in the comment box of your order that you need an antenna grommet and we will be happy to send you one at no extra charge.
Mirror pockets - If your vehicle was manufactured before 1965, the cover you receive may not have mirror pockets, even if it is a custom cover. If the pattern for your particular vehicle does not include built-in mirror pockets, we can send you mirror pockets for free, but they will not be sewn into the cover. This only applies to pre-1965 models. If your vehicle was made after 1965, your custom car cover will have mirror pockets already sewn into the cover.
SHIPPING
Allow 3-4 weeks for delivery.

COLOR
The Ultra'tect is available in gray, tan, black, and blue.


WARRANTY
5 year limited warranty

OPTIONAL ACCESSORIES
Car Cover Storage Bag – Fold up you cover and keep it neatly tucked away in the trunk or garage. This bag will keep it clean and dry.
Car Cover Lock – Thread the vinyl-coated cable through the cover's grommets and attach the lock to secure the cover to your vehicle and deter thieves.
PRICE
Custom covers start at $275.00.
*Prices vary according to vehicle model.
---
Covercraft items ship from the manufacturer via ground service with an estimated ship time of 3-4 weeks. Expedited and international shipping are not available. Addition discounts do not apply to Covercraft products.